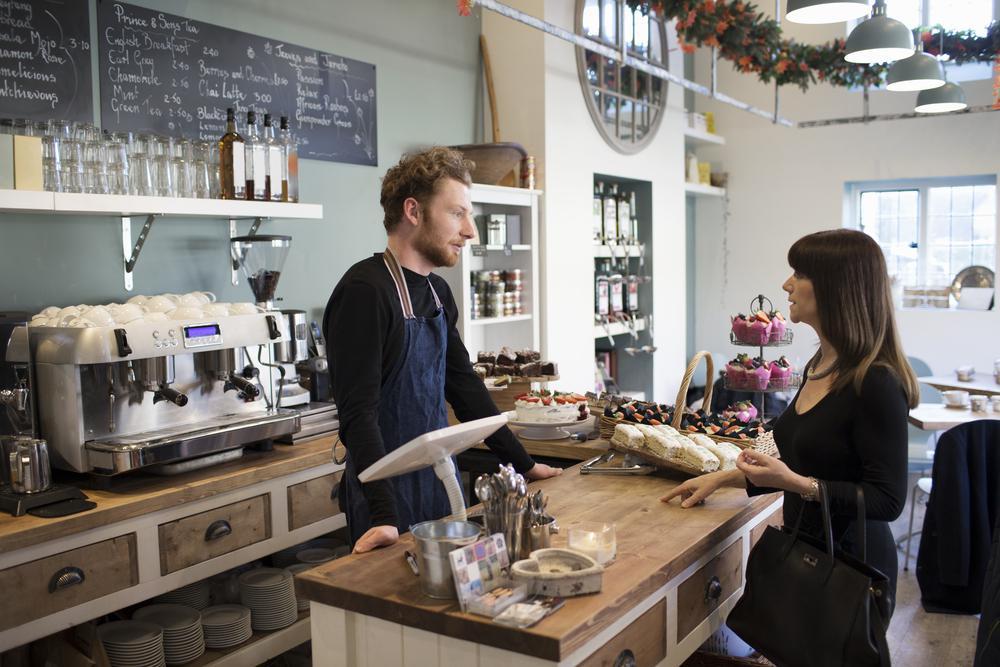 Have you just opened your new coffee shop or café business and the customers are already pouring through the doors every morning? Congratulations! You know what you need now? A decent point of sale system to go with that cash box. You may love being a traditional little café and you might even think you're too small to need any kind of fancy equipment, but as you grow you're going to be glad to have a POS. Point of sale systems can not only help you keep track of how much you made, give you helpful stats on how your sales are doing, and help facilitate credit card transactions, but they can also keep track of your inventory so that you know what kind of supplies you will need next time you go to pick up your raw ingredients. The great thing about a POS is that it will help you stay organized, and you will never have to worry about where you left your scattered pile of receipts because you can always just print a new one.
Since the last thing you want is a POS that is too complicated or that won't fit your needs, let's take a look at one of the best point of sale systems that you can use precisely for a small, brick-and-mortar business like yours:
PayAnywhere Smart POS+
What's so great about the PayAnywhere Smart POS+? Well, just about everything, but there are some main features that make it perfect for a business that's just getting started or that needs to finally get organized:
Easy to Use

: Not a computer wiz? Why would you need to be? You're in the café business after all! If tech support is something you simply don't want to deal with (or pay an arm and a leg for), then this is the kind of POS you want at your restaurant. It is extremely easy to set up and includes a wizard that will do all of the heavy lifting and help you to get started. Updating can also be a hassle with most modern operating systems, but you won't have to worry about that with the PayAnywhere Smart POS+. It takes care of the updates automatically so you don't have to fiddle with anything to get the latest security features installed.

Customizable

: Your business is unique, so the interface on your point of sale system should be, too. Luckily, the software that runs on these machines is very modular and you can add or remove elements from the screen easily at your leisure. This means that if you have a very simple menu, you don't have to suffer from an overly-busy screen if you don't want to. It also means that you can use trial and error to determine what kind of interface is most efficient for you and your employees.

Advanced Technology

:

You want the most advanced software for your store, and thats exactly what this POS is running. The system is cloud-based, so you'll have the convenience of being able to keep an eye on sales and other figures whether you're at your coffee house location or need to step out to address your latest emergency. If you lose Internet access for any reason, though, don't worry: this system is still capable of storing information locally, and it will sync with the cloud as soon as you're re-connected, so you'll have the best of both worlds. This POS is also capable of taking several different payment methods, including cash, credit card, and Apple Pay, so you'll never have to lose a sale simply due to an inability to take your customer's money.

Great Hardware Overall

: This is a very modern, very sleek and well-designed POS system that you'll be proud to have sitting on your counter-top. Unlike the old, bulky registers of yore, this system is thin and easily portable, and uses and extremely intuitive touch interface. The screen even twists around to face your customer so that they can sign off during a credit transaction, and it's just as easy to read and comprehend for them as it is for your employees as it mirrors the mobile interfaces that most of your customers will already be used to. The screen is just about the size of a large tablet at over 13", so it's certainly big enough to to comfortably use, but not so big that it takes over your counter space. Don't worry about keeping your customers waiting, either, since this system is really fast. It uses a flash storage system rather than the old style of hard drive, so all of your orders can be taken and stored quickly.

Great Support

: As mentioned, the interface is extremely easy to use, but as with any kind of technology things can certainly go wrong. If you find that you need tech support, the company will provide it 24-hours a day, 7 days a week, so you never have to worry about being caught in a tight spot because they are always there to help. Another nice aspect of their support is that if your equipment ever actually physically breaks, they will replace it for you for free.

Low Cost

: NAB offers a few different solutions, but the PayAnywhere Smart POS+

is the best value. It's one of their cheapest, costing only a small monthly fee (currently less than 40 dollars) to serve a small company with a few employees. Best of all, there is no upfront cost. For just a bit of pocket change practically, you can be up and running immediately, using some of the most advanced POS technology. There are many costs to not organizing your business properly, and considering how much this POS could save you in terms of time and labor, it will pay for itself many times over. So if you're looking for a POS that can serve you and your customers at your coffee shop, the

PayAnywhere Smart POS+

is certainly one of the simplest, easiest, and cheapest options out there.
Applying for a Merchant Account for Small Businesses
If you are a merchant, then you will undoubtedly need a merchant account. Merchant accounts are accounts that your business holds with a payment processor or merchant services provider that give you access to the critical tools that your business needs to succeed and accept payments. Without a merchant account, your business will be unable to complete the most important part of any transaction--the receipt of the funds for the goods or services that were rendered. If you want to get a merchant account for your business, then the first thing you need to know is how to apply for a merchant account and what is involved in the process of the application. This insight will give you the knowledge and information that you need to be successful in the merchant account application process and provide you with a competitive edge when applying for your merchant account.
Information needed for applying for a merchant account
If you're hoping to have success in the merchant account application process, then one of the first things that you will need to know is about the requirements for applying and gaining approval for a merchant account. There are several pieces of information and documentation that you will need if you're going to have success in your application. Providing these pieces of documentation and information will greatly increase your chances of being successful, but that's not all that matters. You will also need to display several traits and factors that prove yourself to be a reliable and trustworthy merchant.

Here are the pieces of information that you will need when applying for a merchant account:
At least 3 months of bank statements
At least 3 months of processing statements, if applicable
Valid identification
EIN or SSN for the account
A functioning website that has information about your business
Before you apply for a merchant account, you should be sure to have each of these pieces of information available and ready to send with your application. The absence of any of these pieces of information could prevent you from getting a merchant account or getting good rates if you are granted a merchant account. This could delay the process and make getting a merchant account take that much longer.
Getting approval for a merchant account: factors explained
When you are applying for a merchant account, one of the most important concepts that you should understand beforehand is that there are a variety of factors that go into your approval or rejection as a merchant for a merchant account. Being familiar with these factors can increase your chances of success when applying for a merchant account because it will enable you to optimize your application and make it much more attractive to the merchant services that you hope to work with. Here are some of the most important factors in getting approved for a merchant services account and why they are considered to be important.
Bank history
The bank history is one of the required pieces of information for your business if you hope to get a merchant services account. The merchant services provider that you apply with will ask for at least documentation of 3 months of bank history. The reason that merchant services providers ask for this information is pretty obvious--they want to ensure that your business is reputable and is in good standing with your bank. Without this verification, they might not be able to establish confidence that you are a trustworthy financial partner to work with. Merchant services companies want to verify that you are a legitimate business with a verifiably good relationship with your banking provider. By verifying this, they can guess that you will be a good partner to them, as well. Always provide the most comprehensive statement information that you can and be sure to not just provide the bare minimum, if possible. Applications will ask for at least 3 months, but if you are comfortable you should supply up to 6 months of statements.
Processing history
Another thing that will factor heavily into the decision that is made regarding your merchant services account status is the processing history documentation that you are able to provide. When you apply for a merchant processing account, the company that you apply with will very likely want to see at least 3 months of processing history. Again, the more information that you can provide, the better. Those that are able to provide up to 6 months of documentation will likely have more success. The reason that merchant services companies request this information is also clear--because they want to know that you will be a good partner to them in your merchant services and credit card processing relationship. Being involved with a company to provide credit card transactions is no small matter, and the companies that you work with want to protect themselves just as much as you do. When you provide this information, they will look into your past success, chargeback ratios, and any concerns that have arisen in your past relationships with processing companies.

It is possible that you are not able to provide this information, in the event that you are a new business. Still, you should answer as many questions as they have and provide them with answers to the questions that you are able to such as what your expected volume will be. Going the extra mile to provide this information could certainly be the difference between denial and acceptance for your merchant services account.
Credit score
When evaluating your application for a merchant services account, your merchant services partner will very likely want to see your credit score. This is a piece of information that you will likely not have to provide yourself, as many merchant services companies have a way to check this. Your business credit score will tell the underwriter, the person who approves and denies processing accounts, about your financial history and whether there are any red flags. If there are blips on your credit score, that doesn't mean that you will not be eligible to get a merchant services account. However, it might mean that there are more hoops to jump through or that you don't get as good of a processing rate that you were hoping for. The best way to handle a poor credit score as a business is to apply to a merchant services program that approves businesses that are in a similar situation and works with businesses to overcome challenges that they might have struggled with in the past.
Industry
Even though you might not have given much thought to it in the past, one of the most relevant factors in your approval or rejection for a merchant services account is the industry that your business is in. It is very important to consider the industry that your business is in because some businesses are at higher risk than others for chargebacks and fraud. If you are in a very normal and ordinary industry, then you probably don't need to worry that much about the specifics. However, if you are in a high-risk industry that is known for chargebacks and fraud, then you likely want to start looking at ways to bolster your application and show that you can stand out above the rest as a merchant that will not cost the services provider money in the long run.
How long does it take to get approval for a merchant account?
One of the most common questions that is asked when applying for a merchant services account is how long the process takes. The answer is not so straightforward, as there are dozens of factors that go into the decision-making process of either approving or rejecting a merchant for a merchant account. If nothing goes wrong in the process and the underwriters don't need any more information, then it's possible that you receive an answer within 24-48 hours, when working with the right merchant account provider. However, this is not always the case. Oftentimes, your merchant account provider will require additional information including clarification on the business plan, more documentation, or just general questions about your business. You can help to reduce the amount of time that it takes to get approved by being upfront with all of the information that you will need for the application and having it on-hand for clarification if needed.
Be selective in who you choose for a provider
One thing that you should know if you want to get the most out of your merchant account is that merchant processing is a serious business. There is a lot of money at stake, and that is why merchant account providers are so selective in who they approve for a merchant services account. You should be equally as selective when choosing a provider. Make sure that you know what you are looking for in a merchant services provider because they are going to have a large impact on your business and what you are able to achieve with your merchant solutions.