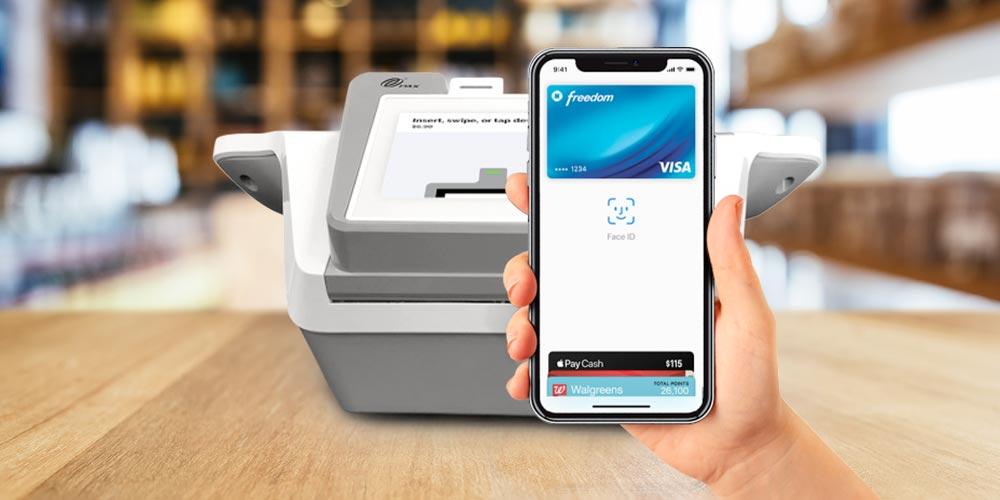 Payanywhere simplifies payment processing for retail businesses, employees, and customers.
Why you need merchant services for your retail store.
Expanding the payment options you offer will allow you to attract new customers who don't carry cash. Having said that, in addition to being able to accept credit cards, debit cards, and contactless payments, you want a merchant services provider who will be a true partner to your business. At Payanywhere, we're committed to giving you everything you need to increase the efficiency and profitability of your retail operation.
The latest and greatest payment devices and point of sale systems.
Pay as you go or custom pricing, featuring low credit card processing rates and no hidden fees.
Free, anytime access to Payments Hub, our secure online merchant portal, and our feature-packed Payanywhere app!
Back-office solutions that simplify your customer, employee, and inventory management.
Merchant services that will help your store or boutique accept payments in store, online, and on the go.
Whether you need a retail POS system to enable in-store payment processing for a brick-and-mortar retail location, solutions for your online store, or a combination of both, you want to offer your customers as many ways to pay as possible.
Credit cards. Seamlessly accept both traditional magstripe cards and EMV chip cards at your physical location or anywhere else your business takes you.
Contactless payments. Accept contactless mobile payments like Apple Pay and Samsung Pay.
PIN debit cards. Allow customers to securely enter their PIN on debit transactions.
Online payments. Send invoices via text, email, or QR code, accept phone orders, and more!
Choose from two unique themes.
Use Terminal theme to mirror a traditional credit card terminal. For item libraries, stock tracking, and open tabs, use Retail theme.
Email, text, or print receipts.
Provide customers with digital or printed receipts while maintaining a customer directory.
Accept offline transactions.
Accept payments even when you have a weak/limited or no internet connection.
Pick the pricing that suits your business.
We'll do more than just offer you great low rates and fees. We can customize a pricing plan for your specific retail business that allows you to make more money on every transaction.
Get peace of mind.
Take advantage of our unrivaled commitment to payments security, including certified, point-to-point encryption, military-grade tokenization, and simplified PCI compliance that protect you from liability.
Manage your customers, employees, and inventory.
Simplify your back-office tasks in the Payanywhere app and in Payments Hub.
Identify your first time customers, most frequent visitors, and biggest spenders.
Track/sync your inventory across devices while setting low-stock alerts.
Create unique employee roles, generate performance reports, and more.
The all-in-one payments platform powering retail businesses.
At Payanywhere, we leave no stone unturned when it comes to helping retail business owners increase their efficiency and profits. Whether you want to accept card payments in store, on the go, or online through our secure payment gateways, we offer you access to our in-house payment processing system. That means industry-leading uptimes with one point of contact for you. All backed by a commitment to customer service you just won't get from any other payments partner.
Give your retail business a competitive edge.
Take advantage of Flat Rate Pricing and Cash Discount with our innovative dual-price Edge Program! It allows you to secure one low rate on every transaction while offering a Cash Discount for non-card users.
Applying for a Merchant Account for Small Businesses
If you are a merchant, then you will undoubtedly need a merchant account. Merchant accounts are accounts that your business holds with a payment processor or merchant services provider that give you access to the critical tools that your business needs to succeed and accept payments. Without a merchant account, your business will be unable to complete the most important part of any transaction--the receipt of the funds for the goods or services that were rendered. If you want to get a merchant account for your business, then the first thing you need to know is how to apply for a merchant account and what is involved in the process of the application. This insight will give you the knowledge and information that you need to be successful in the merchant account application process and provide you with a competitive edge when applying for your merchant account.
Information needed for applying for a merchant account
If you're hoping to have success in the merchant account application process, then one of the first things that you will need to know is about the requirements for applying and gaining approval for a merchant account. There are several pieces of information and documentation that you will need if you're going to have success in your application. Providing these pieces of documentation and information will greatly increase your chances of being successful, but that's not all that matters. You will also need to display several traits and factors that prove yourself to be a reliable and trustworthy merchant.

Here are the pieces of information that you will need when applying for a merchant account:
At least 3 months of bank statements
At least 3 months of processing statements, if applicable
Valid identification
EIN or SSN for the account
A functioning website that has information about your business
Before you apply for a merchant account, you should be sure to have each of these pieces of information available and ready to send with your application. The absence of any of these pieces of information could prevent you from getting a merchant account or getting good rates if you are granted a merchant account. This could delay the process and make getting a merchant account take that much longer.
Getting approval for a merchant account: factors explained
When you are applying for a merchant account, one of the most important concepts that you should understand beforehand is that there are a variety of factors that go into your approval or rejection as a merchant for a merchant account. Being familiar with these factors can increase your chances of success when applying for a merchant account because it will enable you to optimize your application and make it much more attractive to the merchant services that you hope to work with. Here are some of the most important factors in getting approved for a merchant services account and why they are considered to be important.
Bank history
The bank history is one of the required pieces of information for your business if you hope to get a merchant services account. The merchant services provider that you apply with will ask for at least documentation of 3 months of bank history. The reason that merchant services providers ask for this information is pretty obvious--they want to ensure that your business is reputable and is in good standing with your bank. Without this verification, they might not be able to establish confidence that you are a trustworthy financial partner to work with. Merchant services companies want to verify that you are a legitimate business with a verifiably good relationship with your banking provider. By verifying this, they can guess that you will be a good partner to them, as well. Always provide the most comprehensive statement information that you can and be sure to not just provide the bare minimum, if possible. Applications will ask for at least 3 months, but if you are comfortable you should supply up to 6 months of statements.
Processing history
Another thing that will factor heavily into the decision that is made regarding your merchant services account status is the processing history documentation that you are able to provide. When you apply for a merchant processing account, the company that you apply with will very likely want to see at least 3 months of processing history. Again, the more information that you can provide, the better. Those that are able to provide up to 6 months of documentation will likely have more success. The reason that merchant services companies request this information is also clear--because they want to know that you will be a good partner to them in your merchant services and credit card processing relationship. Being involved with a company to provide credit card transactions is no small matter, and the companies that you work with want to protect themselves just as much as you do. When you provide this information, they will look into your past success, chargeback ratios, and any concerns that have arisen in your past relationships with processing companies.

It is possible that you are not able to provide this information, in the event that you are a new business. Still, you should answer as many questions as they have and provide them with answers to the questions that you are able to such as what your expected volume will be. Going the extra mile to provide this information could certainly be the difference between denial and acceptance for your merchant services account.
Credit score
When evaluating your application for a merchant services account, your merchant services partner will very likely want to see your credit score. This is a piece of information that you will likely not have to provide yourself, as many merchant services companies have a way to check this. Your business credit score will tell the underwriter, the person who approves and denies processing accounts, about your financial history and whether there are any red flags. If there are blips on your credit score, that doesn't mean that you will not be eligible to get a merchant services account. However, it might mean that there are more hoops to jump through or that you don't get as good of a processing rate that you were hoping for. The best way to handle a poor credit score as a business is to apply to a merchant services program that approves businesses that are in a similar situation and works with businesses to overcome challenges that they might have struggled with in the past.
Industry
Even though you might not have given much thought to it in the past, one of the most relevant factors in your approval or rejection for a merchant services account is the industry that your business is in. It is very important to consider the industry that your business is in because some businesses are at higher risk than others for chargebacks and fraud. If you are in a very normal and ordinary industry, then you probably don't need to worry that much about the specifics. However, if you are in a high-risk industry that is known for chargebacks and fraud, then you likely want to start looking at ways to bolster your application and show that you can stand out above the rest as a merchant that will not cost the services provider money in the long run.
How long does it take to get approval for a merchant account?
One of the most common questions that is asked when applying for a merchant services account is how long the process takes. The answer is not so straightforward, as there are dozens of factors that go into the decision-making process of either approving or rejecting a merchant for a merchant account. If nothing goes wrong in the process and the underwriters don't need any more information, then it's possible that you receive an answer within 24-48 hours, when working with the right merchant account provider. However, this is not always the case. Oftentimes, your merchant account provider will require additional information including clarification on the business plan, more documentation, or just general questions about your business. You can help to reduce the amount of time that it takes to get approved by being upfront with all of the information that you will need for the application and having it on-hand for clarification if needed.
Be selective in who you choose for a provider
One thing that you should know if you want to get the most out of your merchant account is that merchant processing is a serious business. There is a lot of money at stake, and that is why merchant account providers are so selective in who they approve for a merchant services account. You should be equally as selective when choosing a provider. Make sure that you know what you are looking for in a merchant services provider because they are going to have a large impact on your business and what you are able to achieve with your merchant solutions.